Relax with a cup of delicious coffee at any time of the day. Reishi & Chaga Mushroom Ground Decaf Coffee Mix Organic is a premium decaffeinated ground coffee of 100% Arabica variety. Enriched with medicinal reishi and chaga mushrooms, it promotes relaxation of body and mind and benefits the body overall.
This unique coffee blend gives you everything that is great about coffee – its typical taste and aroma, plus it provides your body with beneficial antioxidants. But without the classic negative effects of caffeine, such as over-caffeination, which can be caused by larger amounts. It is therefore ideal for those who are sensitive to caffeine or for those who like to drink coffee in the evening.

UNIQUE DECAFFEINATED COFFEE WITH MEDICINAL MUSHROOMS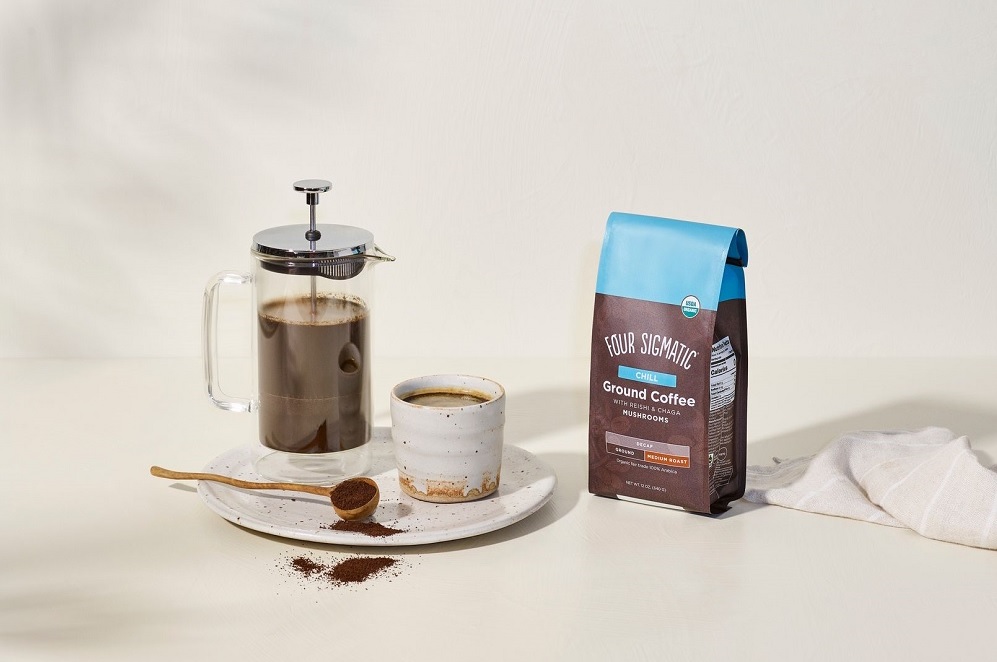 Enjoy premium fairtrade decaffeinated coffee in an original enhancement. You can still enjoy its great taste. But without the negative effects that caffeine sometimes brings. And with the addition of medicinal mushrooms, this coffee will give your body so much more.
Traditionally known as the "divine mushroom of immortality," shiny glossy gourd, or reishi, has a beneficial effect on the immune system, helps maintain normal circulatory function, and helps maintain normal cholesterol levels.
The effect of our mushroom coffee is stabilized by the double extract of the chaga, which strengthens the organism in general.
What are medicinal mushrooms and what are their benefits?
These mushrooms are natural gems that have been used in traditional Chinese medicine and folk healing for thousands of years.
WHO CAN TAKE THIS DRINK?
those who are sensitive to caffeine but want to enjoy a good quality coffee
those who want to reduce the daily amount of caffeine consumed
those who want to have coffee late in the day without disturbing their sleep
stressed people who want inner peace
those who need to cope with the demands of everyday life with peace of mind
those who lack energy
those who want to support their body
3 INGREDIENTS OF THE PERFECT COFFEE
1) 100% Arabica decaffeinated ground coffee
Did you know that coffee is a source of valuable antioxidants? This decaffeinated blend contains similar amounts of them to regular caffeinated coffee. But without the side effects that caffeine can cause in sensitive people.
The Fairtrade coffee beans used in this product come from small farms in the Cajamarca province of Peru. Here, local farmers grow coffee trees at an altitude of between 1,188 and 1,798 metres above sea level.
The coffee is regularly tested by the producers with a result of zero pesticides. External laboratory tests for mycotoxins are also continuously carried out to ensure that the mycotoxin content is kept to a minimum. It is therefore a product of the highest quality.
A gentle and safe way to remove caffeine
Most of the common decaffeinated coffee on our market is processed using chemicals that can be harmful to the human body. The caffeine in this coffee is removed by the organic Swiss Water® Process without the use of chemicals.
2) Chaga
This wood-destroying fungus, ironically called the 'king of mushrooms' or 'diamond of the forest', grows on birch and deciduous trees. Russian folk medicine has used it for hundreds of years to promote physical endurance and normal immune system function.
During World War II in Finland, chaga was used to replace the then unavailable coffee for its taste and similar aromatic profile, as well as to ward off fatigue and regain physical strength. And even before that, it was made famous by the inhabitants of a Siberian village who also used it as a substitute for coffee and tea and enjoyed unusually robust health.
1 dose contains 250 mg of Chaga mushroom.
3) Reishi (Lingzhi)
This wood-destroying, disease-causing fungus from Asia grows on damaged – living and dead – deciduous trees, or decorates stumps with its shiny fan-shaped hat. It is well known in Western and traditional Chinese medicine, which has used it successfully for more than 4,000 years.
It is known as the 'divine mushroom of immortality' for its many beneficial effects. It has a beneficial effect on the immune system, contributes to the normal function of the circulatory system and to the maintenance of normal blood cholesterol levels.
This medicinal mushroom is a great choice for harmonizing the psyche. It will be useful for those who want to supportt sleep quality.
1 dose contains 250 mg of Reishi mushroom.
How this coffee tastes
The way the coffee is roasted has a significant impact on its taste. The longer the beans are roasted, the darker the colour. And it is the resulting colour that gives us a rough idea of how the coffee will taste. There are several types of roasting. Four Sigmatic works with Medium Roast and Dark Roast and we will explain what we mean by these terms.
Some people like to enjoy lighter roasts, which generally provide fruity, caramel and acidic notes; others prefer darker roasts with a fuller body and a bitter component to counteract the acidity of the flavour.
This coffee is MediumRoast.
HOW TO USE THIS COFFEE?
Pour 4 teaspoons (21 g) into 3-4 dcl of hot water.
Ideally, this coffee should be prepared as a drip or French press coffee.
Season the coffee as you like. It is excellent in combination with coconut oil for a creamier consistency and vegetable milk.
It tastes like coffee, but you can't taste the mushrooms.
WHY PREFER A DOUBLE EXTRACT OF MEDICINAL MUSHROOMS?
For the human body, much of the mushroom tissue is indigestible. Therefore, when we swallow the powder from a ground dried mushroom, we cannot absorb nearly all the valuable active substances from its cells.
The extract, on the other hand, contains all the beneficial substances in an easily digestible form. And to really get all the substances from the natural mushroom, you will even find a double extract in this instant drink. So not only the substances soluble in water, but also all the other substances that we obtained by extraction with alcohol (which of course is not contained in the final product at all).
The double extract therefore ensures a higher concentration and better bioavailability of the active substances for the organism. And this is the basis of our medicinal mushroom products.
FURTHER INFORMATION
Ingredients:
Ingredients per serving (1 serving = approx. 21 g): decaffeinated ground Arabica coffee* (Fairtrade), double extract of reishi mushroom(Ganoderma lucidum)* 250 mg, double extract of chaga mushroom(Inonotus obliquus)*∞ 250 mg.
* USDA organic; ∞ wild-grown