Need to get through a busy day? Premium coffee enhanced with medicinal mushrooms and adaptogens will support you to the maximum. And not only that. Compared to regular coffee, it offers plenty of additional benefits for your health.
The classic coffee effect is duplicated in a healthy way by the double extract of the chaga. Cordyceps together with eleuthero further enhances the strengthening effects of the drink. This perfect combination will support you during endurance training and on a normal busy day.
Have a cup and go face the challenges without fear!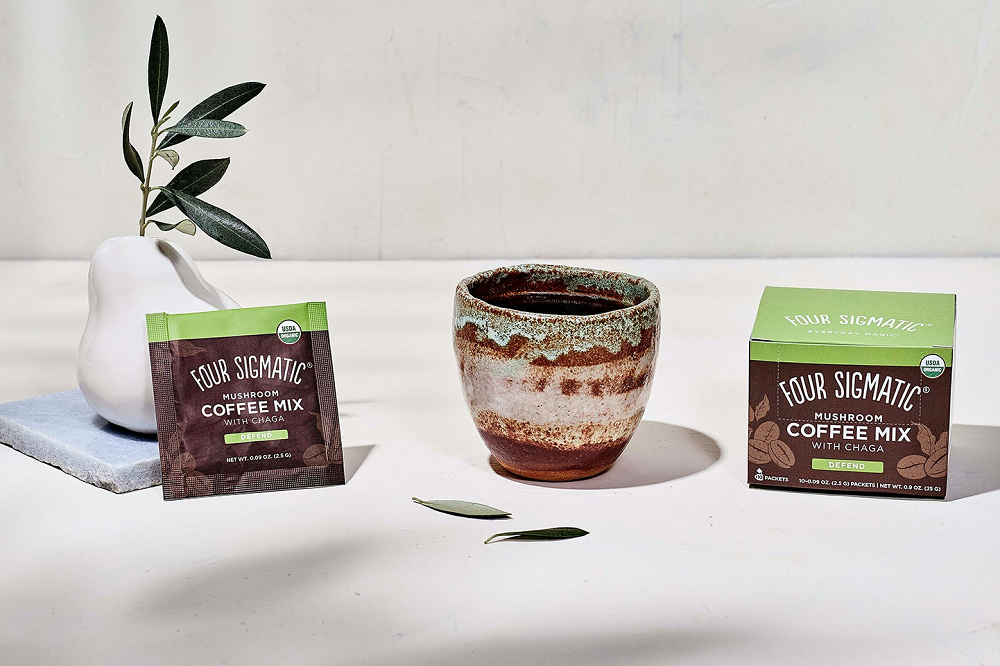 Mushroom coffee that will get you going
Enjoy coffee in an original enhancement that will boost your productivity and metabolism, and give your body so much more thanks to the addition of functional mushrooms.
The double extract of the chaga rhizome strengthens the body overall. Together with Chinese caterpillar (cordyceps) and coffee, it forms the perfect energizing mix that will come in handy during physical exertion.
The effect of the mushroom coffee is stabilized by Siberian ginseng, also called "eleuthero", which as an adaptogenic herb beautifully complements the effects of chaga and cordyceps.
4 POWERFUL INGREDIENTS IN A STIMULATING CUP
1) Coffee
This premium instant coffee belongs to the deliciously smooth 100% Arabica variety. The coffee beans are very gently processed after harvesting. After roasting and brewing the beans, the coffee is concentrated by evaporation and finally spray dried into a pure instant powder. This guarantees a classic, strong coffee taste with a distinctive and fruity note.
The coffee is regularly tested by the producers with a result of zero pesticides. External laboratory tests are also continuously carried out to detect mycotoxin levels to ensure they are kept to a minimum. It is therefore a product of the highest quality.
It contains 50 mg of caffeine per serving.
2) Chaga/chaga (350 mg)
This wood-destroying fungus, known as the "king of mushrooms" or the "diamond of the forest", grows on birch and deciduous trees. It has been used in Siberian folk medicine to detoxify and relieve nausea, as well as a tonic to strengthen the body.
Russian folk medicine has used it for hundreds of years as a mainstay in the treatment of serious illnesses. Alaexandr Solzhenitsyn mentions his experience of using rust in the successful treatment of his own cancer in his book Cancer.
The mushroom contains a whole host of biologically active substances, of which melanin, for example, is very interesting.
This mushroom is a great way to fight off fatigue and gain new strength. During the Second World War in Finland, chaga was used as a substitute for the then unavailable coffee because of its taste and similar aromatic profile. And even before that, it was made famous by the inhabitants of a Siberian village who also used it as a substitute for coffee and tea, enjoying unusually robust health.
3) Cordyceps/Caterpillar (150 mg)
This alien mushroom is found naturally in the mountainous regions of China and Tibet. Traditional Chinese medicine has used it for thousands of years, especially to promote strength, endurance, mental stamina and also as an aphrodisiac.
It is no coincidence that cordyceps was made famous by the Sherpas, who carried multi-kilogram loads on their backs to the tops of mountains.
4) Eleuthero / Siberian Ginseng (100 mg)
Eleuthero or Siberian ginseng is an adaptogenic root native to Northeast Asia. It has been used for centuries by traditional Chinese medicine, Russian and Korean folk medicine to support overall well-being.