It is said that our health begins in the digestive tract. Nurture a balanced gut microbiome! Friendly Force Vegan Probiotics combine 13 strains of beneficial, high-quality probiotic bacteria with a synergistic prebiotic plant blend to support and enhance the overall beneficial effects of probiotics on our health.
The symbiotic effect of probiotics and prebiotics promotes a healthy gut flora, smooth digestion and boosts immunity. All this thanks to a 100% natural, perfectly bioavailable vegan product without chemicals, additives and substances of animal origin.
Strengthen your body the natural way!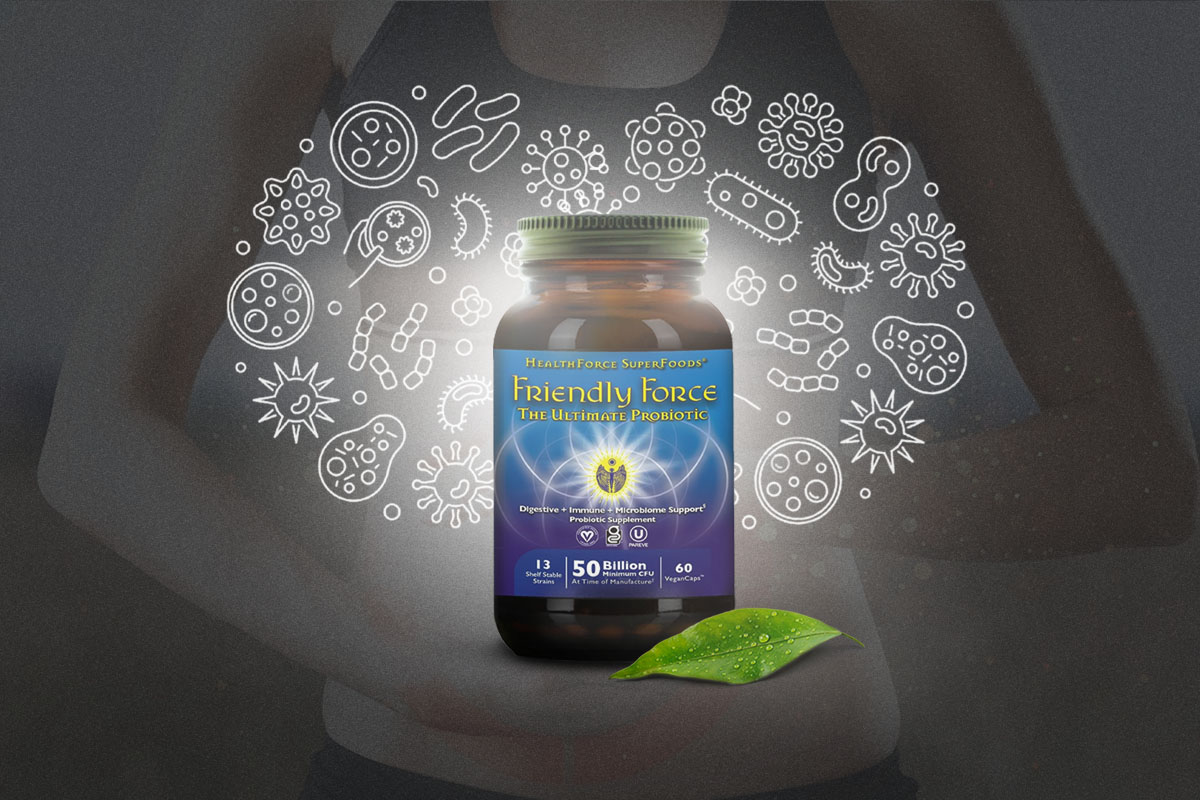 MEET FRIENDLY FORCE

Friendly Force is a cutting-edge, all-natural symbiotic blend of plant origin. It contains a unique combination of 13 strains of beneficial and high quality probiotics, blended with carefully selected whole food roots (yacon, burdock and fenugreek) and seaweed from certified organic farming. These are the source of many active substances with prebiotic properties (inulin, fructooligosaccharides, polysaccharides) that support the growth and activity of gut bacteria.
Thanks to the fact that the bacterial strains contained are resistant to stomach acids and bile, and because they show good adhesion to the cells of the colon, our body can really get the most out of this food supplement.
Friendly Force boasts up to 40 MLD CFU. This number tells us how many beneficial microorganisms live in a single serving until the expiration date.
Friendly Force is made with natural ingredients of only plant origin. They carry Vegan, Gluten-Free and Kosher Pareve (dairy-free) certifications.
WHEN WILL FRIENDLY FORCE PROBIOTICS HELP YOU?
For digestive problems, including tendencies to diarrhea, constipation, bloating or other intestinal discomfort.
To restore or establish a healthy microflora – as part of a detoxification treatment.
For overall strengthening of the gut microbiome before travel.
After antibiotics ( short-term intensive treatment is ideal).
In chronic deficiency of some B vitamins, the intestinal microogranisms also produce some B vitamins.
What are probiotics and what are prebiotics?
Probiotics
Probiotics are cultures of 'natural' micro-organisms which, when present in adequate amounts, benefit the health of the intestinal microflora,improve its balance and, more generally, reduce the risk of overgrowth of pathogenic bacteria and the development of adverse processes in the digestive tract. They promote harmonious training and processing of food, support natural metabolism and have a great benefit for immunity. Overall, they strengthen our health.
Prebiotics
Prebiotics are indigestible food components, usually consisting of oligosaccharides. However, we know them more commonly as 'fiber'. Prebiotics promote the growth, multiplication and establishment of new colonies of probiotic gut microflora, made up of bifidobacteria and lactobacilli.Â
If we combine prebiotics and probiotics together, a symbiotic (also synbiotic) is created. These products are the result of the metabolic process of bacteria and are important for the proper function of the immune system.
Why is the development of gut microbiota so important?
The so-called gut microbiome is currently at the center of medical research worldwide. Millions of symbiotic microorganisms are found in our intestinal tract. They have a profound effect on our immunity, health and overall health. Their nutrient composition and quantity is very important. Excessive consumption of alcohol, antibiotics, analgesics and other drugs, refined sugars and unhealthy foods can create an equilibrium condition that often leads to allergies, skin problems, civilisation diseases and even psychological difficulties.Â
In a nutshell, we can say that the gut microbiome plays a key role in these areas:
It has an indispensable function in training processes,
it acts as protection of the digestive tract against the overgrowth of non-native bacteria or viruses,
it is responsible for the production of biologically active substances that are important for the development of other biochemical processes in the body.
It is not surprising, then, that a healthy gut microbiota is associated by many doctors and scientists with the overall health of the human body and psyche. As has already been said, it is probably related to immunity, which is formed on the basis of a wide complex of phenomena and largely involves the processes taking place in the large intestine. The development of the gut microbiome is therefore an important prerequisite for good immunity.
Why is the proper function of the immune system so important? The answer is simple, its natural balance is related to overall health, and conversely, due to disturbances, manyof various diseases of civilization. As is well known, the field of immune system disorders includes not only reduced immunity, but also allergic reactions and other autoimmune diseases.
Other benefits of Friendly Force
100% natural vegan capsules
Probiotics are packaged in vegan capsules made from fermented tapioca. They contain no added salts, sugar, gluten, artificial colors, chemical additives, preservatives or fillers.Â
Organic packaging
EcoFresh Nutrient Lock⢠â The packaging of the product is respectful of nature and human health. It is made of tinted glass, which is highly recyclable. The clear plastic boxes can transfer toxic particles into the product at high temperatures. In contrast, dark glass packaging extends the life of the dietary supplement and helps to preserve the maximum nutrient content.
Additional information
Dosage
2 capsules daily, with water
Ingredients in adaily dose (2 vegan capsules; 1 g):
Probiotic Blend (200 mg) Total up to 40 MLD CFU*
– Lactobacillus plantarum UALp-05TM∞
– Lactobacillus acidophilus Superstrain DDS®-1∞
– Bifidobacterium animalis subsp. lactis Superstrain UABla-12TM∞
– Lactobacillus rhamnosus UALr-06TM∞
– Lactobacillus casei UALc-03TM∞
– Lactobacillus paracasei subsp. paracasei UALpc-04TM∞
– Lactobacillus gasseri UALg-05TM∞
– Lactobacillus salivarius UALs-07TM∞
– Lactobacillus reuteri UALre-16TM∞
– Streptococcus thermophilus UASt-09TM∞
– Bifidobacterium bifidum UABb-10TM∞
– Bifidobacterium longum subsp. longum UABl-14TM∞
– Lactobacillus delbrueckii subsp. bulgaricus UALb-15TM∞
◊ Organic
° Wild growing
∞ TruGanic™
* colony forming units at expiry date
TruGanic™
This is a very strict US food quality standard that meets at least as strict criteria as BIO. The TruGanic™ standard was created by Jameth Sheridan, a HealthForce physician, to demonstrate absolute purity.
TruGanic™ labeled products must undergo a series of tests to prove that they are 100% free of pesticides, insecticides and herbicides, absolutely GMO-free and have zero radiation. No binders, fillers, isolates, chemical solvents or other additives are used in the manufacturing process. All products are naturally gluten-free.
Health Force ensures the smallest possible carbon footprint and the most environmentally friendly growing practices. It is important to them to support ethical and sustainable farming practices and to purchase as many ingredients locally as possible.
As such, TruGanic™ certified food supplements are designed to achieve the best possible nutritional benefits.
Nutritional values
Per Daily Dose
(2 Vegan Caps™;
1 g):
Energy value
4 kcal
Carbohydrates
< 1 g
Iron
0,6 mg (4,3 %)*
Iodine
25 µg (16,6 %)*
Not a significant source of energy, fat, protein or sugar.
* Reference intake value for an average adult (8 400 kJ/2 000 kcal)
** Naturally occurring sodium
Pack size:
60/120 capsules
Net weight: 60 capsules (36 g), 120 capsules (72 g)