Dried coconut milk powder has many uses. It is such a "happiness powder", as it is called by its manufacturer – the company Wild & Coco. It has a delicious and full coconut flavour and aroma. It is a great substitute for animal milk and cream as it is naturally lactose free. Dried coconut milk is created by blending and dehydrating coconut pulp and has additional advantages over liquid milk, namely longer shelf life and easier storage. So it's a great fit for any kitchen – big, small or just the kind you don't frequent that often.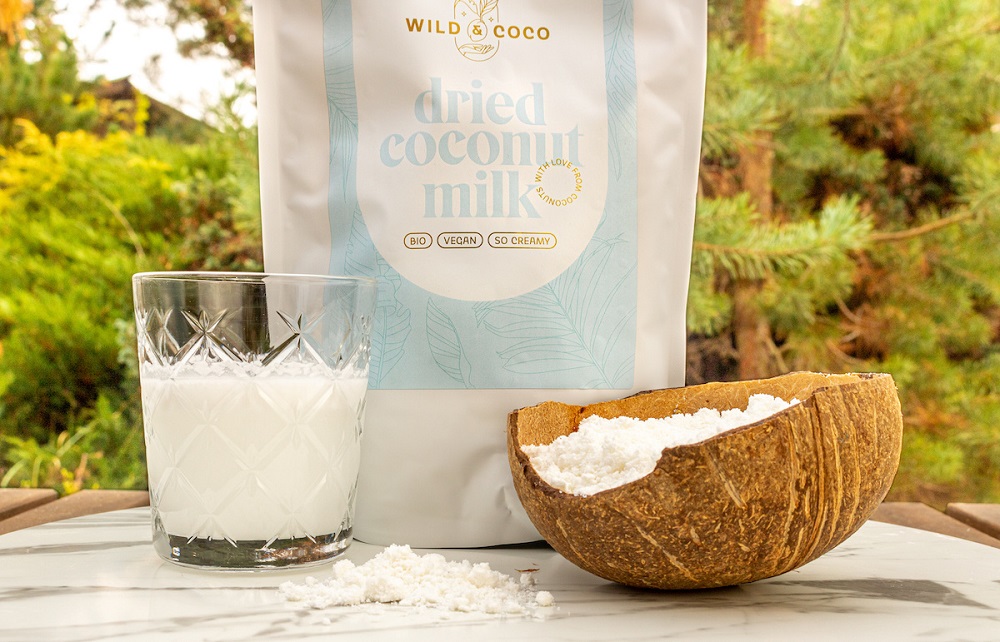 What makes coconut milk great?
Coconut milk contains a high proportion of so-called MCT fats, which are considered a healthy and quick source of energy. Due to their easy digestibility, they are also suitable for those who find it harder to digest more complex fats.
How to use coconut milk?
It is a great ingredient (not only) for Asian cuisine.
The milk is suitable for both cold and hot dishes: in smoothies, cocoa, porridges, desserts, puddings and sauces.
If you want to make coconut cream, mix it with water in a 1:2 ratio.
To make coconut milk (i.e. less fatty than cream), mix with water in a 1:3 ratio.
Use 1-2 teaspoons to flavour your coffee.
Additional information:
Ingredients: dehydrated coconut pulp extract (97%), tapioca starch (2.5%), acacia fiber (0.5%).
| | |
| --- | --- |
| Nutritional values | per 100 g of product |
| Energy | 2930 kJ/ 700 kcal |
| Fats | 64 g |
| of which saturates | 61 g |
| Carbohydrates | 26 g |
| of which sugars | 8 g |
| Fibre | 0 g |
| Protein | 6 g |
| Salt | < 0,1 g |
Can be glued into larger pieces due to the absence of chemicals. Can turn pink due to the natural activity of polyphenols.