Do you want to build muscle mass or enrich your nutrition? Then you are definitely looking for a quality protein! The experts at Four Sigmatic have combined pure vegetable protein with something really special: they have added medicinal mushrooms and adaptogens. The result is a unique blend that not only supports muscle growth, but also benefits the immune system and the psyche.
Protein + Superfoods contains proteins derived from several plants. Thanks to this, it has the perfect ratio of all the amino acids that our body needs. A double extract of the most popular medicinal mushrooms and adaptogens is added to the protein blend. This combination has created the perfect cocktail to support the harmonious functioning of the body.
Among other proteins, Protein + Superfoods stands out for its exceptionally great taste. The product contains no artificial additives, fillers or food substitutes. All ingredients come from organic farming.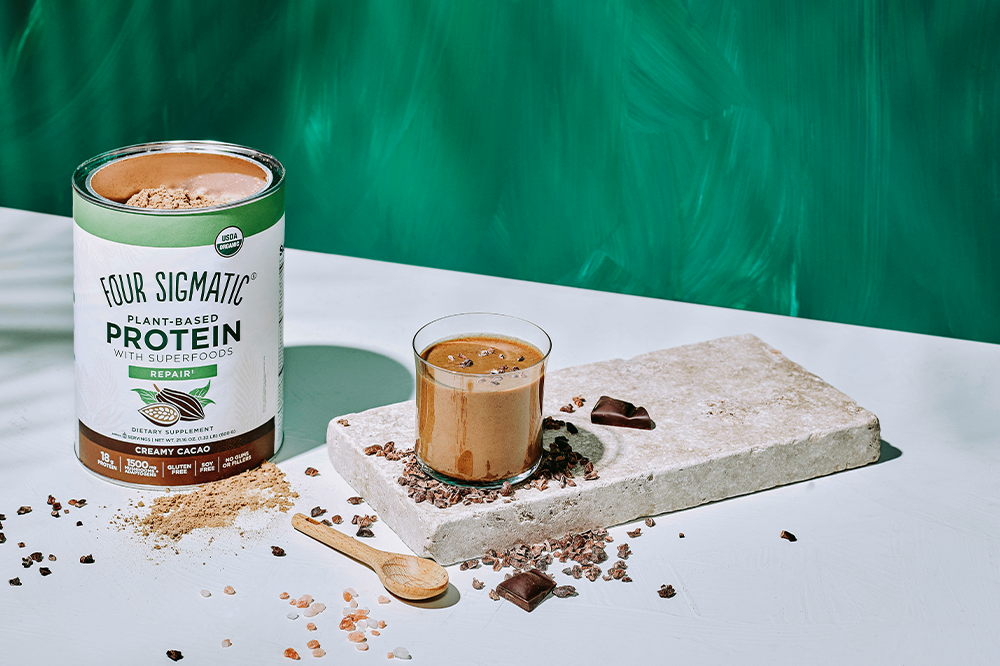 1) PROTEIN BLEND FROM 4 RICH PLANTS
Protein Four Sigmatic is a source of a full spectrum of proteins, including all essential amino acids. In one serving, you'll get 15 grams of protein derived from 4 nutritionally rich crops: pea, coconut, hemp and pumpkin seeds.
Why are amino acids so important for our bodies? They are the building blocks of all proteins. And proteins are part of all the tissues of living organisms. That's why this carefully crafted blend benefits essentially our entire body. It helps to rebuild and repair it, as well as promote overall health.
How are proteins beneficial?
They contribute to the growth and maintenance of muscle mass.
They contribute to the maintenance of normal bone health.
Who is this supplement suitable for?
In sports, if you are trying to gain muscle mass.
If you want to work on your physique, because getting enough quality protein will prolong the feeling of satiety.
If you are vegetarian or vegan, this is a complete source of protein.
If you suffer from fatigue, moodiness and often have a sweet tooth.
During a stressful and challenging period.
During convalescence.
If you belong to a group with increased protein intake requirements (children, pregnant and lactating women, seniors)

2) MIXTURE OF MEDICINAL MUSHROOMS AND ADAPTOGENS
(500 mg total)
These mushrooms and adaptogenic herbs are natural gems that have been used in traditional Chinese medicine and folk healing for thousands of years. They have been valued for their ability to help harmonize the body and return it to a state of natural balance.
▸ Reishi / Ganoderma lucidum 
Reishi is well known in Western and traditional Chinese medicine, which has used it successfully for over 4000 years. This woody, disease-causing fungus from Asia grows on damaged (living and dead) deciduous trees or decorates stumps with its shiny fan-shaped hat. For its many beneficial effects it is called the "divine mushroom of immortality".
Like other medicinal mushrooms, it contains several hundred biologically active substances with a very wide range of beneficial effects. Probably the most well-known of these are betaglucans and tripertens, which support natural defences.
It will be a good helper for people in stressful times and those who want to promote healthy sleep.
▸ Chaga / Birch Conk
Chaga, referred to as the "king of mushrooms" or the "diamond of the forest", is actually a woody fungus that grows on birch and deciduous trees. Russian folk medicine has used it for hundreds of years to promote physical stamina and normal immune system function.
During the Second World War in Finland, chaga was used to replace the then unavailable coffee for its taste and similar aromatic profile, as well as to ward off fatigue or regain physical strength. And even before that, it was made famous by the inhabitants of a Siberian village who also used it as a substitute for coffee and tea and enjoyed unusually robust health.
▸ Ashwagandha / Withania somnifera
Vitania snodar or ashwagandha is known as one of the most powerful herbs in Ayurvedic medicine. As an adaptogen, it has been used in many situations, especially as a support in times of stress or during states of exhaustion. It helps resistance to internal and external stress, supports cognitive function and contributes to mental health. Consumption of this herb stimulates vitality.
Ashwagandha is also a recognized support for reproductive health. The root of the plant contains antioxidants that contribute to the protection of cells from oxidative stress.
3) AND SOMETHING ELSE FOR FLAVOURING
Organic sweeteners without refined sugar combined with organic cocoa to create a pleasant, sweet, flavorful protein taste. Just add water or plant milk. Or you can add the protein powder to your favourite meal.

The protein blend contains:
Organic cocoa powder, organic coconut milk powder, organic maple syrup, pink Himalayan salt, steviol glycosides (natural sweetener).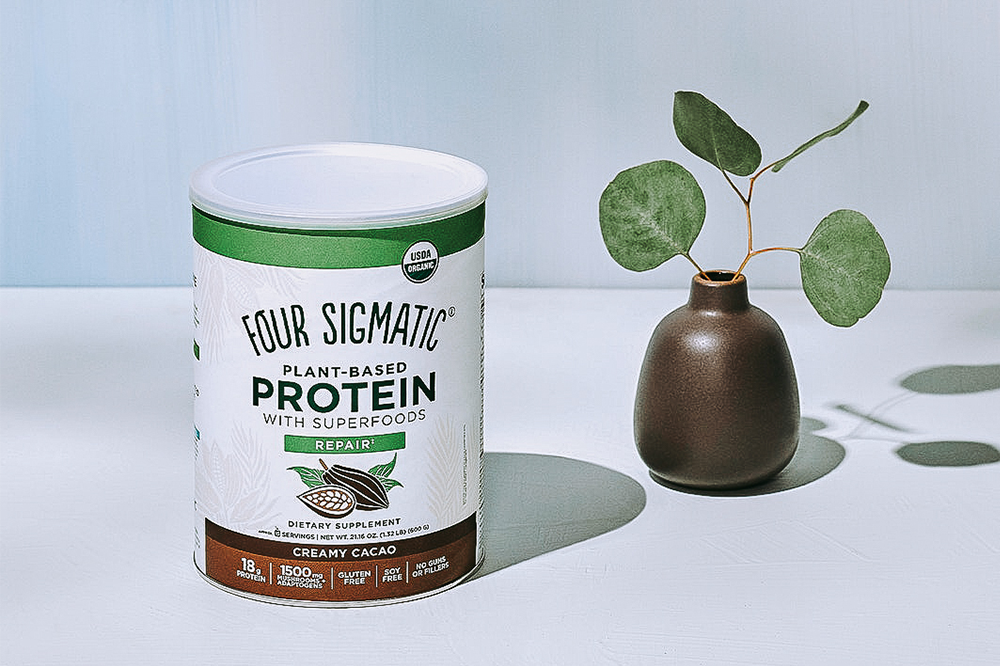 WHY CHOOSE FOUR SIGMATIC PROTEIN?
There are a huge variety of different types of plant-based proteins on our market. However, not everyone is comfortable with the common flavouring of "artificial" flavours. Instead of substitutes, Protein Four Sigmatic contains only "real" ingredients derived from nature, including real, high-quality cocoa. That's why it tastes so great!
The ingredients, exclusively organic, are sourced from the finest sustainable sources. The protein contains no fillers, artificial flavours or other industrial additives.
Moreover, this vegetable protein is gentle on your digestion and will not cause you digestive problems. Compared to conventional milk protein-based proteins, it is easily digestible. It is soy-free, gluten-free, lactose-free and hypoallergenic.

USDA Organic