Antioxidant Extreme™ is a blend of powerful botanical ingredients with natural antioxidant properties. It contains a complex of highly potent compounds from traditional herbs and superfoods that ensure its extraordinary functionality and work in synergy with each other. For example, thanks to the contained turmeric, which has antioxidant properties and contributes to the proper functioning of the immune system.
Antioxidants are able to bind free radicals to themselves, thus benefiting human health. Free radicals are substances that are produced as part of the body's metabolic processes. When they are produced at high levels or when antioxidants are not consumed enough (typically in fruits and vegetables), they can contribute to cell and tissue damage.

Beneficial effects of antioxidants from turmeric
provide a protective effect for the body
contribute to protecting cells from the effects of free radicals
contribute to the proper functioning of the immune system
contribute to the normal functioning of the cardiovascular system
Efficacy of antioxidant supplements
It is common for antioxidants to be degraded in the air. However, with this product you don't have to worry. It is stored in an eco-friendly glass bottle made of recyclable amber glass, which can prevent the loss of effectiveness of the contained substances.
Recommended dosage: 2-4 capsules per day, all at once or in multiple doses.
Intensive use: 8 capsules per day, ideally spread over 4 to 8 servings

– Filled in "VeganCaps™" (from fermented tapioca, without additives)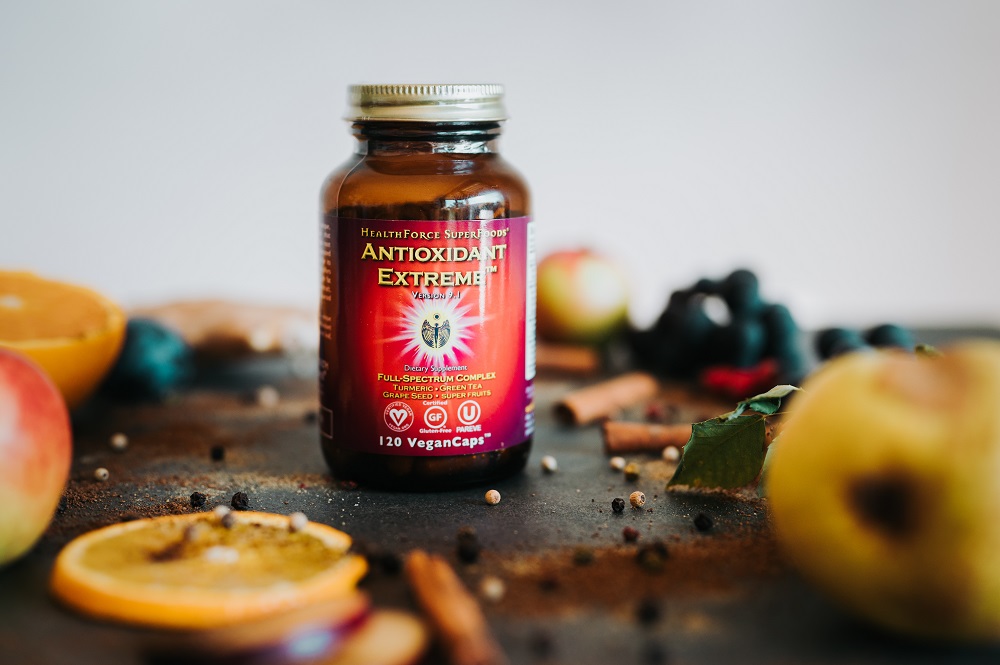 Ingredients (in 2 capsules): Turmeric antioxidant complex 410 mg (organic root 330 mg, organic extract 80 mg), plant antioxidant complex (organic mullein (Polygonum multiflorum) 75 mg with trans-resveratrol content 50%, grapefruit seed extract 240 mg, green tea extract 70 mg, pine bark extract 5 mg), blend of plant activators 123 mg (cinnamon bio, black pepper bio, ginger bio, mint bio), blend of antioxidants from organic fruits 78 mg (acai 15 mg, maqui juice 33 mg, amla Orgen-Ox extract 30 mg), veganfermented tapioca capsules.
It is not a significant source of energy, protein, fat, carbohydrate or fibre.

Contains no other ingredients, only TruGanic™ quality plant-based ingredients.
TruGanic™
This is a very strict US food quality standard that meets at least as strict criteria as BIO. The TruGanic™ standard was created by Jameth Sheridan, a HealthForce physician, to demonstrate absolute purity.
TruGanic™ labeled products must undergo a series of tests to prove that they are 100% free of pesticides, insecticides and herbicides, absolutely GMO-free and have zero radiation. No binders, fillers, isolates, chemical solvents or other additives are used in the manufacturing process. All products are naturally gluten-free.
Health Force ensures the smallest possible carbon footprint and the most environmentally friendly growing practices. It is important to them to support ethical and sustainable farming practices and to purchase as many ingredients locally as possible.
As such, TruGanic™ certified food supplements are designed to achieve the best possible nutritional benefits.
Warning:
Keep out of reach of children. Store in a cool, dark, dry place. Do not exceed the daily recommended dose. It is not a substitute for a varied diet. Not for use by children under 3 years of age, pregnant and lactating women.
WHY DO WE GUARANTEE HEALTHFORCE SUPERFOODS PRODUCTS?
The mission of HealthForce SuperFoods is to help people return to a state of natural health and inner contentment. This uniquely American brand delivers the purest and most effective natural dietary supplements.
HealthForce SuperFoods products are characterized by the combination of exclusively plant-based ingredients with sophisticated manufacturing processes that replicate nature.
The company was founded out of sheer passion in 1990 by holistic medicine physician Jameth Sheridan, D.H.M along with Kim Sheridan – a natural nutritionist. They wanted to bring the world unique herbal blends, based on scientific knowledge, that have complex supportive effects. Their detox products, functional superfood blends or herbal extracts carry superior quality, uncompromising purity and maximum efficacy.
The original TruGanic™ seal of quality takes the safety of the products even further than conventional organic certification. Numerous laboratory tests regularly demonstrate the absolute absence of pesticides, herbicides, insecticides, radiation, GMOs and gluten. HealthForce SuperFoods products are not tested on animals, do not use gelatin capsules, and make maximum use of environmentally friendly manufacturing and packaging practices. This, of course, puts them in line with all the principles of ethical veganism.